My New Habit!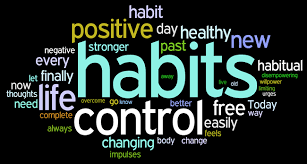 🔥 Transparency Alert: I'm minimizing!
(Fun fact: most coaches I know are always trying new things to optimize our performance 🙂 ) With that being said, my cleaning house! I have workouts that I have from when I started this amazing wellness journey since 2006! That's a lot of workouts and long with that comes many changes in the way we as professionals teach these formats.
😜 Starting a new habit can be challenging. It's normal to forget to do your habit sometimes … or even have to try new approaches to make it stick.
My top two suggestions for making changes:
I always remind myself WHY it's important to me. (Here's why: I simply don't need them anymore. I don't think I'm going to forget how to teach a class. 🙂
"Stacking" this plus working on getting a good night's sleep is making some powerful changes in my personal life.
✅ Eventually I won't have to give this much thought, if I see something that no longer serves my purpose, it's getting thrown! For now, it's something that is going to take time for me to go through many years of collecting.
Always here for you,
Sara
(608)449-1616