Blazepods Are Fab!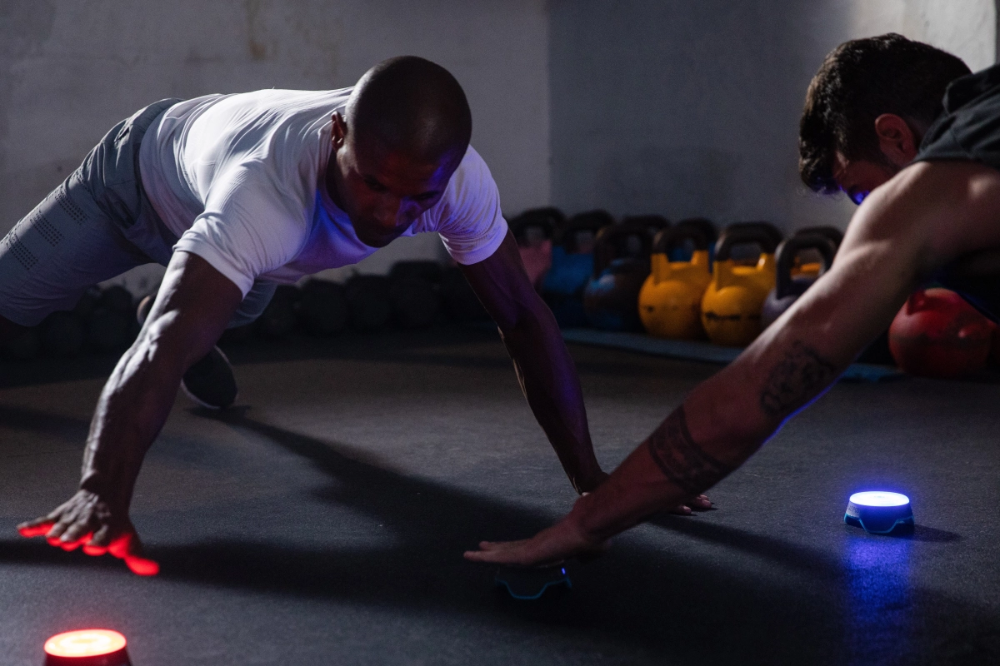 I've always been a firm believer that keeping fit should be fun!
"Blazepods are fab! The fun and inventive way Sara, uses them made the workout time fly by. I definitely felt like I had a thorough workout! Competing against my previous scores definitely helped push me further."…Jim Peterson
BlazePods are a flash reflex exercise system, which is to say that they're a fancy way of working a game of "Whack-A-Mole"into your exercise routine. They're touch-sensitive pods that can be attached to almost any surface. They light up different colours and all you have to do is give them a good whack to turn the light off. I love them because they're just so versatile – you can work them into pretty much any exercise routine, regardless of what you're trying to achieve. Here are a few ways to use BlazePods in your exercise routine.
1. BLAZING FAST SPEED AND AGILITY
If you're training for a competitive sport, then BlazePods, are a brilliant way to introduce reflex training into your workouts in a way that is hard to emulate outside of a competitive environment. Footballer? Try positioning them around you in a circle and tapping the illuminated pods with your feet. You can wear a resistance band around your thighs for added strength training. If you're a tennis player you can take the same approach but spread them out across a wall and hit them with the palm of your hand.
2. BLAZEPODS FOR WEIGHT LOSS
One of my favorite things about BlazePods, is that you can program them with a mobile app, which makes them great for things like circuits and HIIT routines. One of the more popular uses at Sara's, is to place them high on a wall so that a jump is required in order to deactivate them. Put a squat thrust between each jump and all of a sudden burpees become a hell of a lot more fun! You can even put them at opposite sides of the room to incorporate a short run between each jump, making them an effective way to lose weight.
3. TRAIN YOUR CORE
How many times have you assumed the plank position, put your head down and gritted your teeth while you wish the seconds away? I've found that using BlazePods, in static exercises not only makes them more effective, but also more bearable! Placing a pod on the floor in front of you while you plank, and alternating the hand with which you deactivate it forces your core to work that little bit harder and also serves as a nice distraction from the ache in your abs.
4. LIGHT UP YOUR STRENGTH TRAINING ROUTINES
Remember when I said that BlazePods can be attached to almost any surface? That includes pull-up bars! Attach a pod to the bar either side of your hands to make a static hang that little bit more challenging by removing each hand in an alternating fashion to deactivate the pod. If you're feeling really strong you can even incorporate a pull-up between each deactivation.
5. GOOD FOR BODY AND MIND
One of the best things about BlazePods, is that they don't just train your body. They can also be programmed to flash different colors so that you can make a game of them. Just spread them out across a wall, assign each player their own colour, and see who can deactivate their colour the most before the time runs out. It's a great way to keep both your mind and your body sharp while enjoying a communal workout.
BONUS: IDEAL FOR ANY AGE GROUP
This isn't really a way to use the pods, but my absolute favorite thing about them is that they're perfect for any age group. My older clients have found them great for mobility, coordination, balance and mental agility, and kids love them too! One of my clients recently brought her five-year-old son to a session and he had the time of his life!
These are just a few ways to use BlazePods, but the possibilities are endless. So whether you're looking for a fun way to lose weight, build strength or improve your agility, book a personal training session and come and try them for yourself…..
Make it an amazing day, Sara